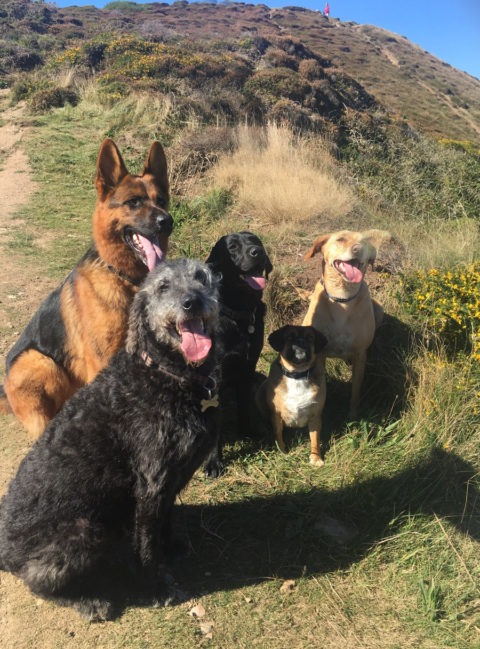 I offer flexible walk times daily between 8am and 7pm. Your dog will be picked up and dropped home in my vehicle which has been professionally fitted by Scarrotts to offer 5 spacious and secure kennels having a DEFRA pet ventilation system and individual observance cameras. This ensures your dog travels to and from their walk safely and in comfort. I always carry fresh water, a pet first aid kit and plenty of towels to dry.
Group Walks – (Group size of 3 – 5 dogs)
Book your fur baby on a group walk and they will have fun, freedom and make doggy friendships while enjoying the outdoors. They will gain from socialising and having interaction with other dogs. Dogs love to be part of a pack and your dog will get mental stimulation during their exercise, encouraging them to be more energetic and focused. Your dog will stay fit n' healthy and most importantly return home happy.
Dogs are grouped for walks according to their individual needs, size and personalities.  I always ensure the dogs I walk are compatible and integrated gradually before I allow them to be off the lead together.
| | |
| --- | --- |
| 1 hour walk beach/woods or fields | £10 per dog |
| 2 hour countryside stomp | £15 per dog |
| 4 hour half day hike | £30 per dog |
25% Discount for any additional dogs from same household
Solo Walks
Solo walks are suitable for your dog if they do not like to be socialised with other dogs, are in season, are elderly or are a puppy or dog requiring individual one to one time. I can tailor this walk to suit your dog's needs reducing the chance of stress or anxiety to your fur baby.
| | |
| --- | --- |
| ½ hour walk beach/woods/fields | £15 |
| 1 hour walk beach/woods/fields | £20 |
| 2 hour countryside stomp | £30 |
Accreditations
I hold the following CPD certified Certifcates:
Pet First Aid
Pet Sitting and Dog Walking Diploma
Dog Behaviour & Training Level 3
Contact me to discuss your dog's requirements and book a pre-visit.
New paws are always made very welcome!